Catherine Master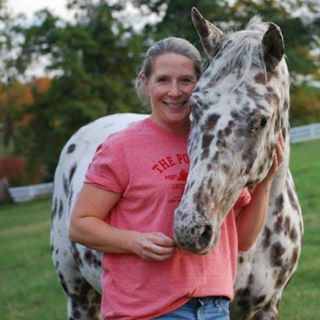 Hello, I am Catherine Master, I work at Target headquarters in Minneapolis as a Sr. Engineer in Information Technology. However, my passion lies in taking care of and spending time with animals. I live on a hobby farm with four horses, six cats, two dogs and six chickens.
My passion led me to earn an Associate's degree in Veterinary Technology. I spent five years as a Vet tech at a small animal hospital and an emergency clinic. A career change led me to earn a Bachelor of Science in Business Management and a Diploma in IT. I have spent 18 years in IT and although it has been a great career, my desire to work with animals never left me.
I became certified Equine and Canine Massage through Armstrong Equine Massage in Becker, MN. I now have my own massage business that I do part time called Three Mares Animal Massage. I enjoy meeting new people and their pets. But the best part is fulfilment I get from helping animals become healthy and feel good again.
Being exposed to massage therapy, highlighted the importance seeing the animal holistically. To learn more about holistic healing, I took some online courses in equine nutrition. Also, I enrolled in Liberated Horsemanship's Natural Hoof Care Training Program. Simultaneously, I am working as an apprentice to Dr. Julie Huss, owner of A Step Above, which offers equine chiropractic and natural hoof care trimming.
What Catherine Master – Therapist of the Month Says?
The massage, nutrition and natural hoof care skills will allow me to expand my massage business to include Bare Foot Ferrier, nutrition consultant and ultimately transition my career back to animal's full time.
I am excited about this next chapter of my life and look forward to meeting new clients and their animals and help them on their path to wellness.
Check out my Facebook page for Three Mares Animal Massage
My contact info:
Catherine Master, Cmaster13@gmail.com, 612-227-1128