Equine Massage Services, Clinics, and Certification Program
Whether you want to pamper your pet, or ask a lot of your athlete, we are here to help!!
Armstrong Equine Massage is a hands on program that teaches you how to feel and identify sore muscles in a variety of horses. We talk about the whole horse, from head to hoof. This is not just a 4 day program. We provide support and mentoring all along the way. You may also attend the program again at no cost if you so choose. Here are some up coming dates. You must pre-register, limited spots available. Located in Becker, MN.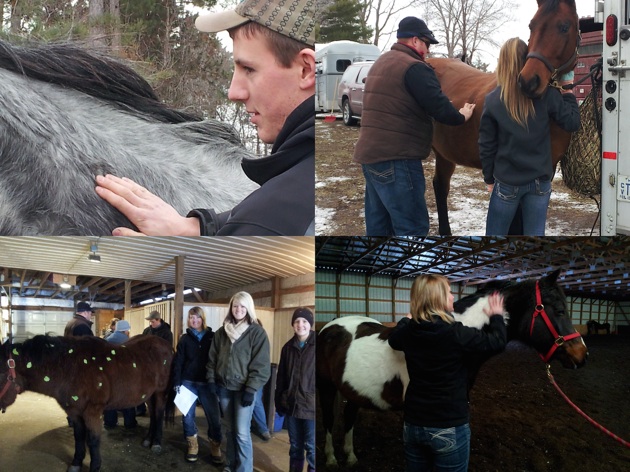 What we cover in class:
1) Safety when handling horses
2) Massage techniques
3) How to find Trigger Points
4) Stretching techniques
5) Marketing/Legal
6) Animal Behavior/communication
7) How to Customize each massage to promote balance
8) How to work as a team
9) Documentation
10) Essential Oils with animals
We are now offering 2 Options for your Equine Massage Educational needs.
The First is our new levels program!
Complete When You Finish the 4 levels!
The Second is our 4 Day Intensive program.
See which one best fits you.
Level 1:
This is the Beginning level to learn the basics of Equine Massage. We will cover the reasons why your horse may need massage therapy. How to find trouble areas by observation and palpation of the body. Hands on practice of stretching techniques and Massage. We will also discuss other modalities and tools to help with muscle tension.
Level 2:
Must take Level 1 First.
This class will expand on Level 2 class. We will go in depth of Muscle anatomy. How to recognize compensation patterns, how to balance the body with the massage/bodywork. Hands on massage practice. We will specialize in Poll, Neck and Shoulder issues. The importance of fascia and how it works in the horse. Stretching hands on practice. The practice will also be working on multiple horses.
Level 3:
Must take Level 1 & 2 First.
This Class will expand on the First 2 Levels. We will go in depth of the skeletal structure of the horse and how it works with the movements. How the rebalance using Massage and stretching. We will also be covering Documentation and client discussion. This class will specialize in back and hind end issues. How to use acupressure points to enhance the benefits of massage. Hands on Practice of new skills.
Level 4:
Must take Level 1-3 First.
This class will cover marketing, scheduling, and how to find clients. Case study requirements after the class to complete the level are required. 4 horses, 4 massage each. Muscle testing and how to apply to a horse. Hands on Practice and Anatomy Final. Certification is after this level is complete.
4-Day Equine Intensive Certification
We will Still be offering the 4 Day Equine Intensive Class. This will cover everything in the 4 levels in a jam packed 4-day Class. You Must have Horse Knowledge and handling experience to take this Course.
Dates for 2020
Each Level is a 2 day hands on class. $395 Per Class
Level 1
Level 2
Level 3
Level 4
February 1, 2

March 8, 9

April 2, 3

May 7, 8

June 9, 10

July 9, 10

November 7, 8

February 8, 9

March 14, 15

April 5, 6

May 14, 15

June 11, 12

August 3, 4

December 3, 4

February 22,23

March 21,22

April 16, 17

May 16, 17

June 22,23

September 17,18

December 12, 13

February 29, March 1

March 28, 29

April 20, 21

May 18, 19

October 5, 6

December 19,20
4-Day Equine Intensive Certification $1400
February 27-March 1

March 16 – 19 – Located at Perquestrian Acres in Zimmerman

April 6-9

May 7-10 – Located at Pinewood Stable in Mankato, MN http://www.pinewoodstable.com/

May 25-28

June 23-26

July 7-10

August 10-13

August 24-27 Located at: Sioux City, IA
https://www.scstars.org

September 8-11

October 5-8

November 9-12

December 7-10
Included with certification:
Armstrong Equine Massage 4-Day Equine Intensive Certification is NCBTMB approved for 32 CEU's
Mentoring and support
Become a member of Armstrong private Facebook group
Network with other animal massage professionals
Business listing on website once complete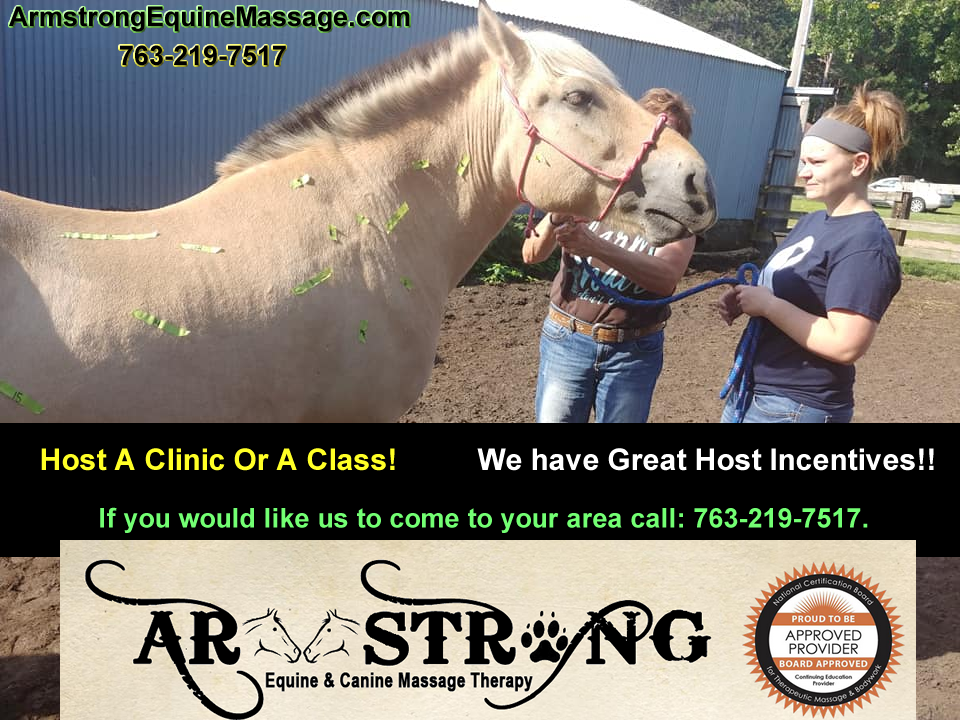 | | | |
| --- | --- | --- |
| | You can pay your class online with a credit card or your PayPal account! | *Option during checkout |